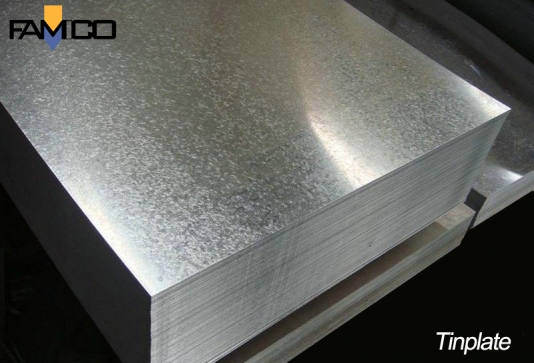 Tinplate, thin steel sheet with a coating of tin applied either by dipping in molten metal or by electrolytic deposition. Tinplate made by this process is essentially a sandwich in which the central core is strip steel. This core is cleaned in a pickling solution and then fed through tanks containing electrolyte, where tin is deposited on both sides. As the strip passes between high-frequency electric induction coils, it is heated so that the tin coating melts and flows to form a lustrous coat.
Tinplate has the strength and formability of steel combined with the noncorrosive and nontoxic properties of tin and has the additional property of easy solder ability. While it is largely used for containers for food and beverages, paints, oils, tobacco, and numerous other products, its use has broadened to include toys, baking equipment, and parts for radio and other electronic equipment.
Accordingly we have to announce proudly that we are able to offer Tinplate from reliable sources especially from China.
Download attachments: