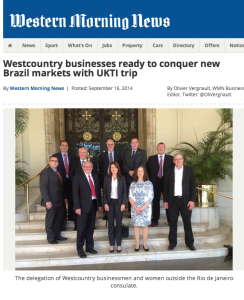 A five-day market visit to Brazil, which was led by UK Trade and Investment (UKTI), has been hailed a success by South West companies.
The businesses visited one of the world's most lucrative markets with support and leadership from UKTI, who assisted with visit planning, market research and preparation for this dynamic, but challenging country.
Delegates represented a range of sectors, from fluid pumps and oil extraction to personal security and beer. The visit formed part of UKTI's High Impact Growth Economies programme (HIGE), and is supported by the European Regional Development Fund (ERDF).
The results achieved exceeded expectations with businesses achieving sales contracts and establishing trading relations for future export growth.
Russell Jones, UKTI Regional Director said:
"The support offered to South West businesses looking to expand in Brazil has been a major platform in UKTI's assistance programme. We are delighted at the results achieved for the businesses that took part in the visit and the foothold they have gained in this growing lucrative market."
A group of South West businesses ( including Famico Trading) visited Brazil to explore future export opportunities.